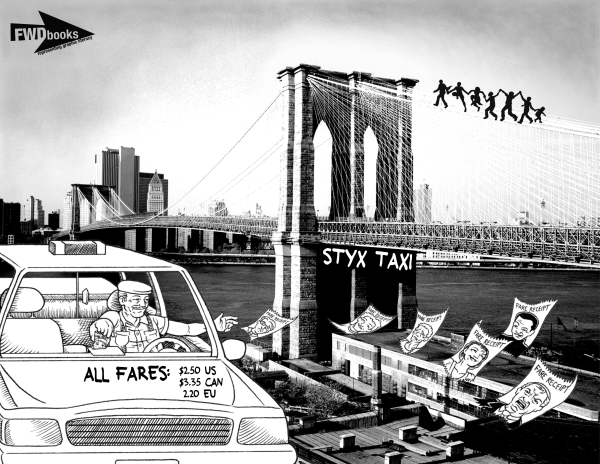 "Styx Taxi --
This whole story dances on wires.
So sad, so wonderful, so true."

--Donna Barr, author of The Desert Peach and Stinz


"Styx Taxi is a story about people, heightened by a tastefully adumbrated original mythology that is never allowed to overwhelm the book's humane, compassionate core. Arambulo's carefully crafted and rewarding layouts and shot composition work well to balance the stories of the fully-realized secondary characters with the book's central through-line about human change...and the value of a good sandwich.

--Geoff Klock, author of How to Read Superhero Comics and Why


Interviews:

Reviews:
back to top
Now that you're dead, what are you gonna do with your life?
The hacks of the etheric cab company STYX TAXI ask that of all their fares, and the reason's quite simple: STYX offers each and every recently-deceased spirit a chance to make things right before moving on. Taking its name from Greek mythology, STYX TAXI transplants the idea of the ferryman who takes souls across the river Styx to the land of the dead to a ghostly cab company in present-day New York City.
FWDbooks proudly presents STYX TAXI: PASTRAMI FOR THE DEAD.
The first in a series of one-shots and graphic novels from FWDbooks, STYX TAXI: PASTRAMI FOR THE DEAD follows a day in the afterlife of three STYX drivers. But STYX's Dispatch, never seen but always heard, has spiced up today's quota with an office contest: the Soul Drive. Deliver more souls to the afterlife than your fellow drivers and get 12 hours' freedom on Earth... outside the cab. Lose, and have your contract terminated. No reincarnation, no giggly afterlife. Game over.
From the top of the Brooklyn Bridge to the spotless sidewalks of the Upper East Side, STYX TAXI's drivers are waiting to take you where you need to go the most.
STYX TAXI: Pastrami for the Dead is the first release from writer Steven Goldman and artist Jeremy Arambulo. Combining scripting heavily influenced by Goldman's stage and screenwriting and artwork reminiscent of the clean lines of Paul Grist and Steve Rolston, STYX TAXI's beating human heart is the perfect intro to FWDbooks' stretching of the imaginative potential of American comics.
The brainchild of the Brothers Goldman, FWDbooks begins here. Provide your own hyperbole; FWDbooks represents graphic literacy... smart, fresh, ballsy comics.
STYX TAXI: Pastrami for the Dead is a 24-page black-and-white one-shot with a retail price of $2.50, written by Steven Goldman, art by Jeremy Arambulo and lettered by Thereisnodesign.
back to top